In the review article below, in addition to physical review, user reviews from different countries are added to noise and visor sections to provide general information.  Blue coloured texts contain redirection links and new tab will be opened when you click on these links.
South Korean helmet manufacturer HJC manufactured IS-17 series with 1.50 kg (medium size) weight from polycarbonate material. Precision scales 1.624 kg Average from 3 size L helmets.
SAFETY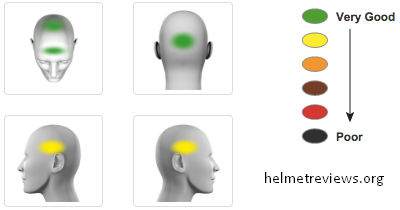 Image/Test Copyright Sharp | HJC IS-17 @8.5m/s
This model is tested in Sharp laboratories and received 5 stars. Important factor other than stars is impact zone diagrams which is colours. Frontal bone, coronal suture, parietal bone, lambdoidal suture regions have passed this test with green while squamous suture and temporal bone regions passed the test with yellow colour. HJC IS-17 has ECE REG 22.05 safety certificate.  Every helmet that passes Sharp test has this certificate.
This model does not have Snell test certificate which includes harder tests. Helmets that can pass Snell test are rare. see also: snell certified helmets
HJC IS-17 can keep up with developing technology in security with double-d ring chin strap system and visor lock system.
NOISE
If we generalise user reviews for HJC IS-17, we can rate isolation of this helmet as 1.8 over 15. You should not be surprised with different reviews. This is because we all have different hearing, riding style, motorcycle types. We all ride on motorcycle with different wind protection level and we all have different speeds. Wind tunnel test conducted by COAU at 100km/h identified noise level as 95.83 dBA and scores this helmet with 14.18 over 20. If noise level is an important criteria for helmet selection, we recommend taking dB levels of COAU as reference and see also: quietest motorcycle helmets
VENTILATION
For air circulation, there are two ventilation channels on chin side, visor has one ventilation channels, two ventilation channels on the top, and four ventilation outlet channels on the back. All ventilation channels up to back side can be opened and closed. You can't intervene with ventilation outlet channels on the back. As in some helmets, you cannot keep this ventilation channels at certain level. Aerodynamic structure of this helmet is rated 6.31 over 10 by COAU and ventilation structure is rated as 9.33 over 15 by COAU.
VISOR
HJC IS-17 has pinlock. Therefore, visor fog will not be a problem. If we generalise user reviews for HJC IS-17, we can rate wide field of view of this helmet as 13.2 over 15. Wide field of view may be similar in most of the helmets but vertical field of view is rarely similar. Therefore, vertical field of view should be considered as this is an important element. When you take position especially on sport motorcycle, you need as much as vertical field of view to see in front of you clearly. We can say vertical field of view of HJC IS-17 is at medium level. Vertical field of view of this helmet is rated 2.66 over 5 by COAU and visor wind proof level is rated as 4.5 over 5 by COAU.
SIZE CHART
We can say that HJC IS-17 is designed for Intermediate Oval head structure and fitness of this helmet is at medium level. From outside, helmet will look neither larger nor smaller than your head.
Size chart on HJC website
OTHER
HJC IS-17 has breath deflector, glasses groove, chin wind curtain, removable and washable cheek pads.
This is all the information we will provide under overview. You can find the summary in summary tab, check user reviews tab for user opinions, add this helmet comparison list and find the right helmet for you with filtering system. 
HJC IS-17 is commonly compared with these helmets: AGV K3 SV | HJC FG-17 | SHARK SKWAL